OUR RESEARCH
Our group studies wild animal populations to understand how animals evolve, and improve their conservation outcomes.
Although Dr Frere has contributed to research on a variety of species throughout her career (from giraffes to porpoises), our research group focuses on three main species: koalas on Australia's east coast, eastern water dragons in Brisbane's Central Business District, and bottlenose dolphins in Shark Bay Western Australia.
KOALAS
Despite their iconic status and economic value, koala numbers are in sharp decline in the northern and eastern parts of their range (New South Wales, Queensland and the Australian Capital Territory). The species is listed as vulnerable under the Australian Environmental Protection and Biodiversity Protection Act in these areas. In 2015, Dr Frere and Dr Cristescu established the Detection Dogs for Conservation (DDC) initiative to help improve conservation outcomes for koalas.
EASTERN WATER DRAGONS
Eastern water dragons are charismatic, long-lived and protected reptiles and are often found in suburban backyards. They are urban adaptors, surprisingly social. Our group has been studying 4 populations of eastern water dragons in Brisbane's Central Business District for more than 8 years. Our main field site is Roma Street Parkland where we survey and catalogue information on a large population of 350 feisty, individually identified dragons.
BOTTLENOSE DOLPHINS
Bottlenose dolphins live in fission-fusion societies and have rich and complex social lives that can tell us much about social evolution. We have been involved in the Shark Bay Dolphin Research Project since 2006, when Dr Frere undertook research on the social bonds between female dolphins for her PhD. This project tracks over 1700 individually identified dolphins throughout their lives and includes an international team on three continents.
science communication
You don't need to be an expert to learn more about the work we do and the impact our research is having. We hope the videos below engage all young or aspiring scientists!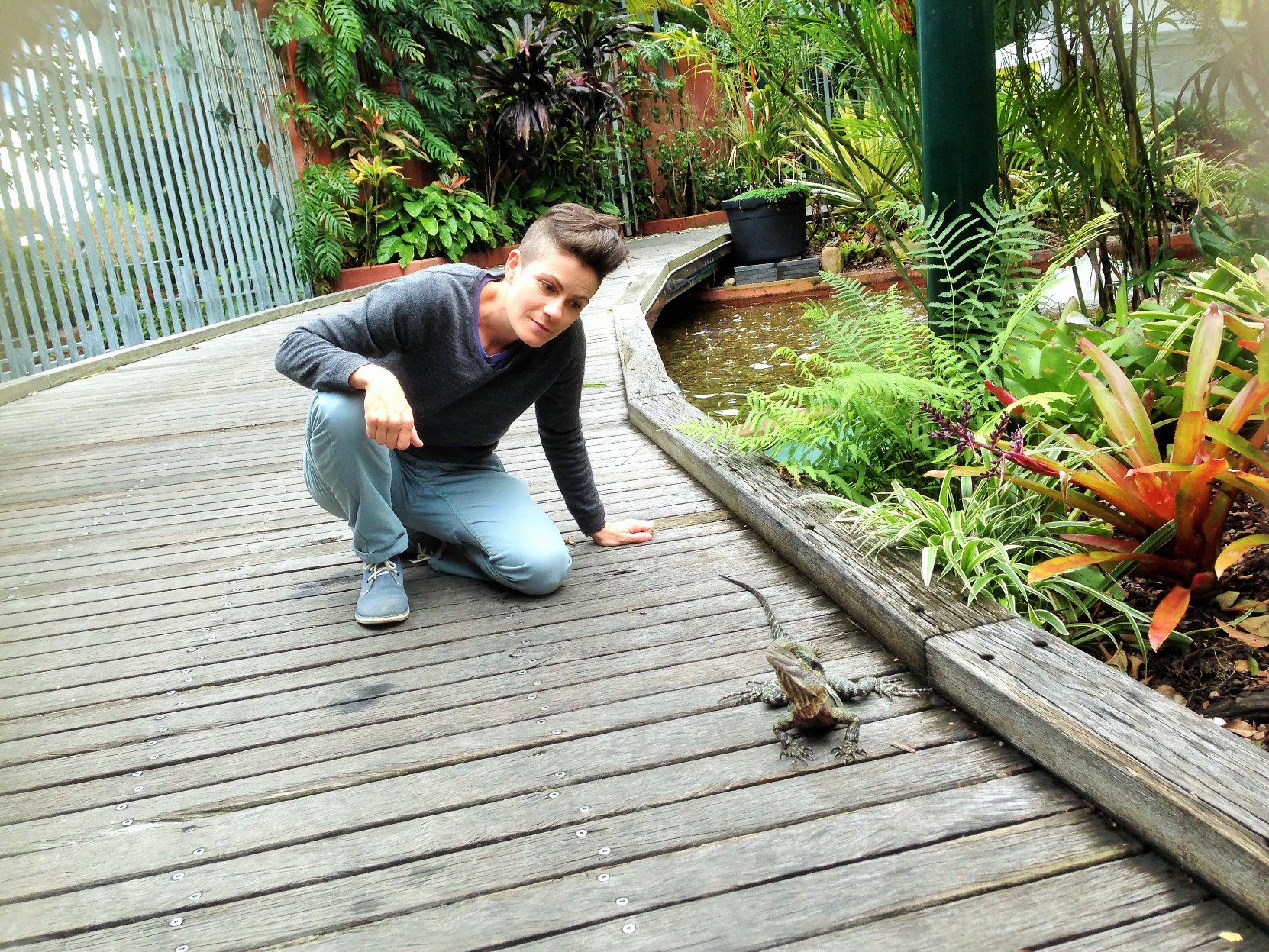 Dr celine Frere
Dr Frere is a Senior Research Fellow at the University of the Sunshine Coast. She recieved her PhD in evolutionary biology from the University of New South Wales and has held post-doctoral positions at the University of Queensland, and a lectureship at the University of Exeter UK.
She has published with more than 100 researchers from within six government or non-government organisations, seven industry partners, and 22 universities across nine countries.
In 2017, Celine was identified as one of Australia's '30 most dynamic scientist and technologists' by Science and Technology Australia, and named a "SuperStar of STEM."
Contact Us
Our research group is located at the Sippy Downs campus of the University of the Sunshine Coast in Queensland, Australia.
Dr Frere welcomes high-performing graduate students and collaboration with other academics.